Welcome to Aspire Vision Care
Your Optometrist in Round Rock, TX.
Welcome to Aspire Vision Care in Round Rock. Our doctors and staff at Aspire Vision Care strive to provide the finest in optometry services.
Aspire Vision Care is a full service eye and vision care provider and will take both eye emergencies as well as scheduled appointments. Drs. Guenthner and Lumby and our staff are dedicated to keeping our patients comfortable and well-informed at all times. We will explain every exam and procedure and answer all of our patient's questions. Additionally, we offer vision financing options and will work with vision insurance providers to ensure good eye health and vision care for all of our patients.
Our Approach to Optometry
Your vision should enhance your performance at school, work, and sports, not interfere with it. The developmental approach adopted by Aspire Vision Care enhances learning, productivity, and overall quality of life for every child and adult in need. We passionately care for every member of the family, from infants to great-grandparents and everyone in between.
Our one-on-one approach to optometry makes Drs. Guenthner and Lumby and the Aspire Vision Care staff the eye and vision care providers of choice in the Round Rock and surrounding area. Our Round Rock optometrist offers the following services: complete eye exams, pediatric eye exams, dry eye treatment, infant eye exams, contact lenses, glasses, glaucoma testing, and vision therapy. For a complete list of services, visit our services page or call our Round Rock office at (512) 360-8969
At Aspire Vision Care, we are dedicated to providing high-quality optometry services in a comfortable environment. Call us at (512) 501-2100 or schedule an appointment today online.
Aspire Vision Care received an official proclamation from the Mayor of Round Rock, declaring Children's Vision & Learning Month
Ortho-k offers a convenient, effective way to correct your nearsightedness, reduce your need for eyeglasses or daytime contact lenses, and slow the progression of myopia in kids – all without surgery!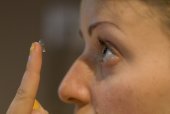 When it comes to contact lenses, one-size-fits-all is not only an uncomfortable, but also a potentially damaging, concept that can result in serious vision and eye issues. Contact lenses generally sit directly on the cornea, making it very important that the measurements of your contact lenses are 100% accurate to ensure a comfortable, healthy fit.
Nearsightedness, know as Myopia, is one of the most common vision problems, affecting 42% of Americans. There are a variety of treatments for myopia
Spring is in the air. But along with the beauty of the blooming flowers and budding trees, comes allergy season. Here are a few steps you can take to make your eyes more comfortable during allergy season
Vision and Learning Workshops

Does Your Child Struggle with Reading?

Do you have a bright child who struggles reading on their own? Learn how their vision might be playing a role and what you can do about it.
Wednesday, September 27, 2017
6:00pm
Since 80 percent of all school work involves reading, writing or other prolonged near-vision work, school can become an ordeal for both child and parent if an underlying vision problems exists.
Wednesday, October 11, 2017
6:00pm
Many doctors, educators and parents express growing concern at the increasing number of young people being put on powerful medication for Attention Deficit Disorder, a condition often identified only by vague symptoms. Many signs of A.D.D. are common to vision deficits as well. Can you distinguish between A.D.D. and vision?
Tuesday, October 24, 2017
6:30pm
Every parent wants their child to be successful in school. But as many as 25 percent of children in any classroom have vision problems that keep them from attaining their highest level of success.
Thursday, November 16, 2017
6:00pm
Dr. Guenthner provides free in-office workshops to discuss how vision problems can impact reading, learning, and even the ability to pay attention. Open to everyone including parents, teachers and educators, and other professionals.
---
Vision Therapy is an individualized, supervised, treatment program designed to correct vision problems that affect your ability to read, learn, play sports, and even pay attention.
Whether or not you require vision correction, sunglasses can add an element of comfort and enhanced performance to your activities.
Great Eyewear and Eye Care in Round Rock, Texas
With an office in Round Rock, Aspire Vision Care serves the Greater Austin area – schedule an appointment today. If you have a moment, please give us your feedback about our site and your experiences with our Practice.
Sep 19, 2017
Even if you don't have any eye or vision problems, the natural process of aging affects your ability to see and react to visual stimuli....
Aug 27, 2017
Many teens who wear glasses are eager to try out contact lenses for convenience, fashion or to just provide another option for vision correction.
Aug 13, 2017
What's it like to be color blind? Contrary to what the name implies, color blindness usually does not actually mean that you don't see any...
HOURS
Monday:

8:00 am - 6:00 pm

Tuesday:

8:00 am - 6:00 pm*

Wednesday:

7:30 am - 5:30 pm

Thursday:

7:30 am - 5:30 pm

Friday:

Closed

Saturday:

Closed

Sunday:

Closed
*Closed from 12:00 pm - 1:30 pm