Welcome to Aspire Vision Care
Your Optometrist in Round Rock, TX.
Our doctors and staff at Aspire Vision Care strive to provide the finest in optometry services. Aspire Vision Care is a full-service eye and vision care provider and will take both eye emergencies as well as scheduled appointments. Drs. Guenthner and Lumby and our staff are dedicated to keeping our patients comfortable and well-informed at all times.
At Aspire Vision Care, we are dedicated to providing high-quality optometry services in a comfortable environment. Call us at (512) 501-2100 or schedule an appointment today online.
Celebrating the One-Year Anniversary of Dr. Carissa Lumby, OD
The one-year anniversary of Dr. Carissa Lumby as an appreciated member of the Aspire Vision Care optometry practice brings many reasons for celebration. Dr. Lumby enhanced this full-service eye care center with the development of a specialized Dry Eye Clinic, as well as added orthokeratology to their comprehensive eye care services.
Ortho-k offers a convenient, effective way to correct your nearsightedness, reduce your need for eyeglasses or daytime contact lenses, and slow the progression of myopia in kids – all without surgery!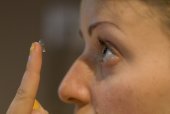 When it comes to contact lenses, one-size-fits-all is not only an uncomfortable, but also a potentially damaging, concept that can result in serious vision and eye issues. Contact lenses generally sit directly on the cornea, making it very important that the measurements of your contact lenses are 100% accurate to ensure a comfortable, healthy fit.
Nearsightedness, know as Myopia, is one of the most common vision problems, affecting 42% of Americans. There are a variety of treatments for myopia
Spring is in the air. But along with the beauty of the blooming flowers and budding trees, comes allergy season. Here are a few steps you can take to make your eyes more comfortable during allergy season
Vision and Learning Workshops

Does Your Child Struggle with Reading?

Do you have a bright child who struggles reading on their own? Do they take hours to do just 20 minutes of homework? Learn how their vision might be playing a role and what you can do about it.
Wednesday, December 13, 2017
6:00pm
Dr. Guenthner provides free in-office workshops to discuss how vision problems can impact reading, learning, and even the ability to pay attention. Open to everyone including parents, teachers and educators, and other professionals.
---
Dr. Nancy Guenthner and her staff provided me with the most comprehensive eye exam that I have ever received. I have recommended them to my family and friends and clients. Excellent customer relations!...
-
Stephen P. - Round Rock, TX
Nov 27, 2017
The New Year is coming and many people include healthier eating and exercise in their resolutions for the year ahead. Well other than weight loss...
HOURS
Monday:

8:00 am - 6:00 pm

Tuesday:

8:00 am - 6:00 pm*

Wednesday:

7:30 am - 5:30 pm

Thursday:

7:30 am - 5:30 pm

Friday:

Closed

Saturday:

Closed

Sunday:

Closed
*Closed from 12:00 pm - 1:30 pm