Welcome to Aspire Vision Care
Your Optometrist in Round Rock, TX.
Our doctors and staff at Aspire Vision Care strive to provide the finest in optometry services. Aspire Vision Care is a full-service eye and vision care provider and will take both eye emergencies as well as scheduled appointments. Drs. Guenthner and Lumby and our staff are dedicated to keeping our patients comfortable and well-informed at all times.
At Aspire Vision Care, we are dedicated to providing high-quality optometry services in a comfortable environment. Call us at (512) 501-2100 or schedule an appointment today online.
Celebrating the One-Year Anniversary of Dr. Carissa Lumby, OD
The one-year anniversary of Dr. Carissa Lumby as an appreciated member of the Aspire Vision Care optometry practice brings many reasons for celebration. Dr. Lumby enhanced this full-service eye care center with the development of a specialized Dry Eye Clinic, as well as added orthokeratology to their comprehensive eye care services.
Ortho-k offers a convenient, effective way to correct your nearsightedness, reduce your need for eyeglasses or daytime contact lenses, and slow the progression of myopia in kids – all without surgery!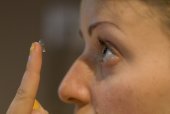 When it comes to contact lenses, one-size-fits-all is not only an uncomfortable, but also a potentially damaging, concept that can result in serious vision and eye issues. Contact lenses generally sit directly on the cornea, making it very important that the measurements of your contact lenses are 100% accurate to ensure a comfortable, healthy fit.
Nearsightedness, know as Myopia, is one of the most common vision problems, affecting 42% of Americans. There are a variety of treatments for myopia
Spring is in the air. But along with the beauty of the blooming flowers and budding trees, comes allergy season. Here are a few steps you can take to make your eyes more comfortable during allergy season
Vision and Learning Workshops

Back-to-School….But Are They Ready?

It is back-to-school after the holidays. Is your child performing up to their potential? Bright child yet struggles with reading and classwork? 80% of learning is visual. See if your child's vision is up to the task. Click above for more info.
Tuesday, January 9, 2018
6:30pm
Could it be A.D.D. or is it Something Else?
Many children have trouble paying attention at school but what is really going on? Many children have a vision problem that makes it difficult to concentrate on near tasks like reading and homework. See workshop flyer above for more info.
Wednesday, January 31, 2018
6:00pm
Dr. Guenthner provides free in-office workshops to discuss how vision problems can impact reading, learning, and even the ability to pay attention. Open to everyone including parents, teachers and educators, and other professionals.
---
The doctor explains everything easy. So i could understand very well. And she was really kind!
- Sunri B.
Doctor was great with my boys (6 & 8). Front staff was welcoming and warm. Location was clean.
- Riki S.
Dr. Nancy and her staff had so much patience with my very active four year old. She was able to quickly determine my daughter's prescription even though my daughter wasn't cooperating very well. Thank you Dr. Nancy for helping my girl to see better! And thank you to Tyler for helping us pick the perfect glasses!
- Chelsea G.
I had a great experience at Aspire! Staff and doctor were very welcoming and friendly. I'll be recommending Aspire to my friends and family 🙂
- Natalie E.
Professional, nice, welcoming. Great quality of lenses, never need to wait for your eyes to get used to them. I take there all my family. the team works with you to get your glasses right for you
- Daria F.
Dr. Guenther found out the problem I was having after several others could not. One being a "heavy hitter". She found it, fixed it, and has been helping me since then. She is very kind, and professional. She takes the time and then some to help out, and make sure you are feeling good about your exam , and answers questions without making you feel stupid, or taking up her time. I enjoy her, and feel comfortable with what she is telling me.
- Karan M.
Dr Guenthner is awesome and so is the entire staff. Went above and beyond as they stayed open late to see my daughter with an eye infection and we extremely nice. I highly recommend this vision center!
- Matthew W.
Feb 18, 2018
It's that time of the year again. Each February, the optometric community bands together to create awareness about age-related macular degeneration (AMD). AMD is a...
HOURS
Monday:

8:00 am - 6:00 pm

Tuesday:

8:00 am - 6:00 pm*

Wednesday:

7:30 am - 5:30 pm

Thursday:

7:30 am - 5:30 pm

Friday:

Closed

Saturday:

Closed

Sunday:

Closed
*Closed from 12:00 pm - 1:30 pm